This topic puts the spotlight on the changing world of work! With the recent shift towards gig work and freelance roles in the Canadian economy, youth are more interested than ever in exploring what the gig economy has to offer in terms of jump starting their careers. Flexible and remote work opportunities can be a great way to gain experience in a wide variety of fields and generate an income at the same time. Since the pandemic, we've seen so many great examples of people finding creative ways to work outside the boundaries of a traditional 9-5 job. Our goal with this topic is to inspire youth to follow their passions and gain the confidence to start a gig of their own. 
In the sections below we have provided additional resources to support our live event and to provide opportunities for youth to engage in personal development and career exploration.   
If you are under the age of 30, we would appreciate your help in completing a brief post-webinar survey to assist us with evaluating the impact of the series for our funder, RBC Future Launch.  Be assured all responses will be kept fully confidential: https://bit.ly/survey_careers
Our e-learning series is designed to allow youth to confidently map out this next phase of their life through their own customized plan. These on-demand modules provide practical step-by-step guided instructions, curated resources and worksheets.
The first module in our e-learning series, 'Identify Your Skills', guides youth through the process of breaking down their volunteer and work experience and helps them identify transferable skills they should include in their resume.
Our Career VLOGs provide an inside look into different careers, as each video asks professionals basic questions about how they started in their industry, what skills and education are required, and where they see the opportunities for youth interesting in getting into this line of work today. These vlogs will provide a starting point for youth to explore a career option that they may have never thought of pursuing.
Career Choices VLOGS – Carpenter 
Career Choices VLOGS – Air Pilot
Career Choices VLOGS – Software Engineer
Career Choices VLOGS – Project Leader
For those wishing to integrate the series into learning plans (whether at home or in the classroom), we have provided discussion guides and slides to help. We encourage you to watch the webinar and continue the conversation through the workshop.
While conducting research for this series, Experiences Canada reviewed a number of resources and we are pleased to recommend the following resources we believe are especially relevant for teens and young adults.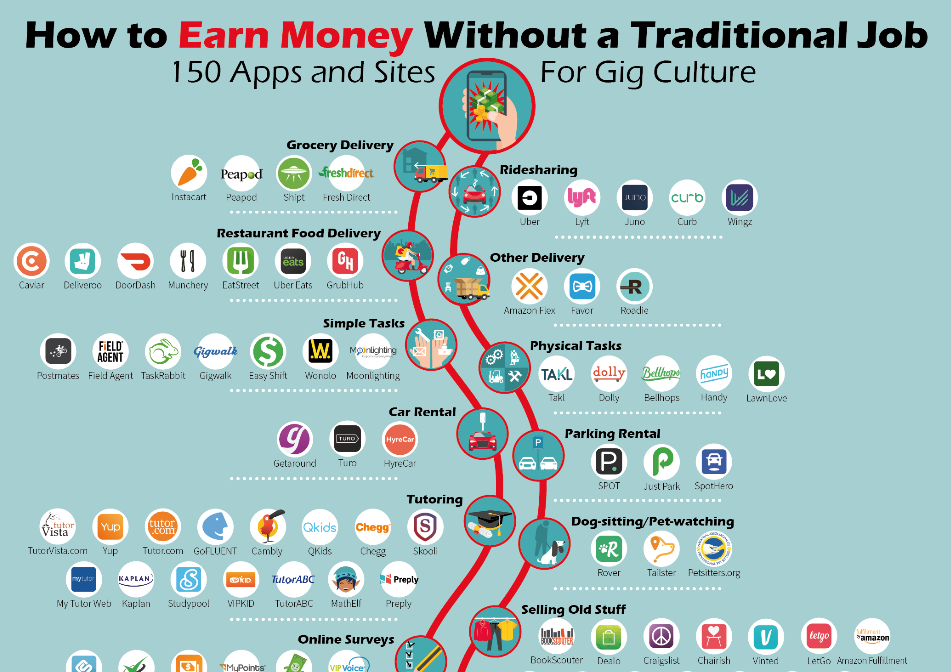 How to Earn Money Without a Traditional Job: 150 Apps and Sites for Gig Culture | TitleMax
Don't have a 9-to-5 job? That's no problem. Here's how to make money without a job that's full-time. We've gathered a list of the 150 best side-gig apps that can help you with your side hustle to help pay the bills. There are hundreds of different things you can do to earn money, thousands of